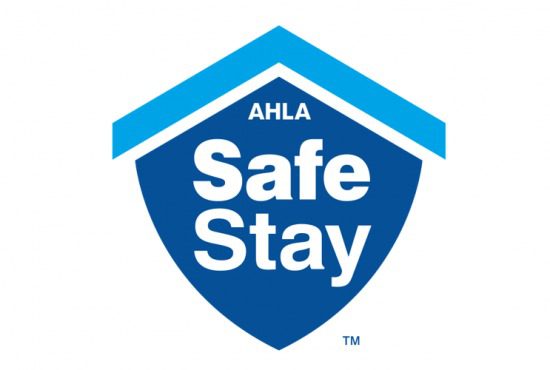 Stay Safe, Stay Small …
Stay INN at Horn Point
Our top priority has ALWAYS been to provide exceptional hospitality in a small, manageable, safe and welcoming environment.  We feel it noteworthy to point out that two of our guest rooms have exterior entrances, giving our guests the option of easily and conveniently choosing to practice "extreme social distancing" by not ever setting foot or mingling in the "common spaces" of the INN. Wide open spaces around our expansive front porch and uncongested residential streets make getting out of doors and social distancing easy to maintain.  We always have and always will clean and operate in a manor that reduces health risk for our guests and our family. On that note, we have adjusted a few things within our operation, including guest services, breakfast and housekeeping to fully comply or exceed with WHO, CDC and the American Hotel and Lodging Association (AHLA) recommendations.
Way before the concern over any virus, independent travelers experiencing our INN and posting to Trip Advisor have consistently and over time, pointed out "cleanliness" as one of their personal takeaways. We want you to be confident that your stay with us in Annapolis will not only be safe, but filled with our special form of hospitality. Summarizing the unique care that we constantly provide our guests, we have borrowed a short simple phrase from the CDC, while you are here with us, "Keep Calm and Wash Your Hands". And we would like to add "Relax and Totally Enjoy Your Stay Small, Stay Safe visit to Annapolis". We look forward to seeing you soon!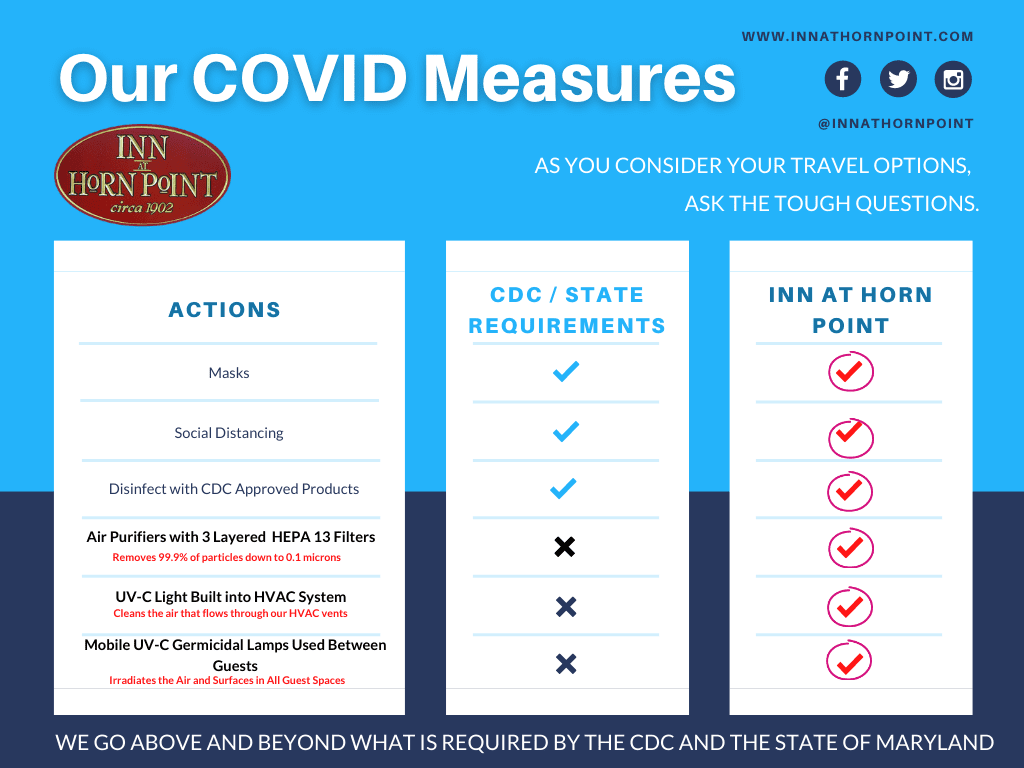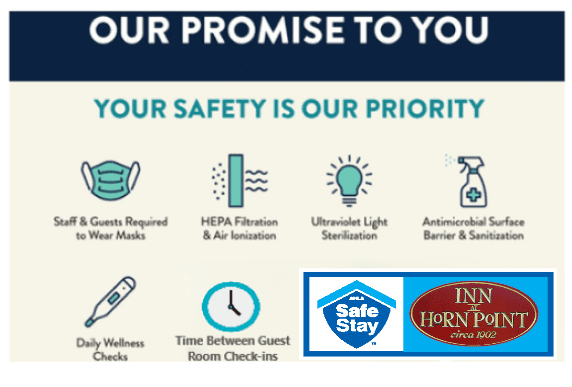 Keeping Our Guests and
Family Safer than Ever
We are completely a family owned, family run business. We are taking each family members temperature daily to help identify that we are not asymptomatic.
We are aggressively following CDC hand washing guidelines and wearing protective gear.
We expect that our guests will not be traveling when they feel ill and/or have a temperature; and we will take the temperature of any arriving guest immediately upon their request.
Our Welcome and Common Spaces
As an extremely small venue for your overnight stays, we have the advantage of being able to keep tabs on our intimate spaces, and as always, we can and will continue to clean them thoroughly and regularly. Our one on one arrival procedures  have been in line with protocol measures that were only recommended at the height of the pandemic. We have added: even more frequent hand washing, gloves and face masks. We have also adjusted our normal hospitality gestures (usually hand shakes and in some cases with repeat guests, hugs) to smiles beneath the mask at a 6′ social distance . However, our core hospitality will never be compromised.
a. Back in 2015, we added an Ultraviolet-C Air Scrubber Plus with Ozone air purification system to the INN to address bacteria and virus material in the air. Our model does not require "airing out" of a room. We keep this running 24/7.
b. July 2020, we began using a mobile whole room UV Germicidal Irradiation lamp using UV-C lights. In less than 15 minutes, our model can disinfect any of our Queen rooms (30 minutes for our King suite and common spaces), deactivating any potential virus, and killing any potential bacteria. We know that the extra expense and effort are inconsequential compared to providing the CLEANEST, SAFEST accommodation in all of ANNAPOLIS…and arguably anywhere!
c. We have purchased multiple Medify MA-40 Version 2 Air Purification systems. These units provide Medical Grade Filtration with H13 True HEPA filters. We run these throughout the INN and in guest rooms before each and every check in. We have also purchased smaller Medify MA-15 Air Purifiers for individual guest rooms, giving you to freedom to run at your own comfort level.
d. Unless traveling together, we will remind our guests of social distancing measures, especially at breakfast, which will still be served with our usual painstaking detail and care.  All of the local directory resources, magazines and our charming little "knick knacks" have be removed from rooms.
e. We have traditionally used more natural cleaning products that have killed bacteria, while preserving indoor air quality and friendly to the environment. Initially, we thought we'd have to move to more chemical based products. We have found a healthy compromise, and are continuing to use Earth friendly products that ARE on the EPA's approved list for use against CoV-2.
f. Hand sanitizing and disinfectant wipes (when available!) are also available in the common areas for your own use and comfort.
Guest Room and Housekeeping
a. This is a tricky one, but again, it is for the benefit of EVERYONE. Our goal is that guest rooms will not be entered up to 72 hours after check-out. The room, linens and all touch points, for example, faucets, door handles, light switches, handles as well as TV's and their remotes will be cleaned with disinfectants aimed at killing viruses. Due to our 'out of service' protocol, please be understanding if we need to ask to relocate you from the guest room of your choosing upon confirming your reservation.
b. Our housekeeping offerings will be modified for stay-over guests, including the elimination of a full cleaning service unless specifically requested by guests, and then, we are all about it!!
c. Our housekeeper is our daughter. We want to keep her safe and will do EVERYTHING possible to ensure that when she goes into a room to clean, any threat of a virus has been mitigated. There are no outside people who enter our INN, other than us and you, our valued guests.
d.  Though it added to the individuality of each guest room "knick knacks" and other unnecessary items have be removed from guest rooms, such as decorative pillows, bed spreads, magazines, paper notepads and pens.
Due to the more compact nature of our environment, we will continue to pride ourselves on the importance of our from-scratch delicious breakfasts. Offerings will be adapted to prioritize the health and safety of guests and family, including:
a. Breakfast offerings that comply with local regulations. As always, our delicious breakfast is cooked to order and served; therefore, we have always avoided guest contact with "buffet-style" service, keeping guests from touching common surfaces and aggressively addressing and reducing the possibility of cross-contamination.
b. We will avoid guest congestion having removed our coveted "family-style" dining table for eight, which has been replaced with tables for 2 with super duper distancing between them. Exceptions will be made for up to 10 people traveling together, and only upon advanced request.
c. We have added seven outdoor dining 2-top tables on our iconic and highly recognizable wrap-around front porch and our secluded dining deck.
d. We have added "breakfast to go", for guests who prefer to take their breakfast…perhaps one block to picnic tables at the waterfront.
e. We will add additional dining times, when necessary, to provide ample social distancing.