Annabelle
Our Pet Friendly Room
This lovely private room is separated from the rest of the main Inn and offers its own dedicated entrance and covered porch with cushioned seating for two. The room contains a trundle bed which can be configured as a single super comfy king, one twin or two twin beds. Annabelle is the Inn's only pet‑friendly room with speedy ease of access to the mostly fenced in yard and outdoors for neighborhood walks. The room is decorated to reflect the charm and history of Annapolis and a spacious stand‑up shower in an en suite bathroom.
Our room takes it's name from a 24.23m ( a.k.a. 79′) luxury yacht, custom built by John Trumpy & Sons, here in Annapolis (Eastport). She was delivered in 1955 under the name Rumak III.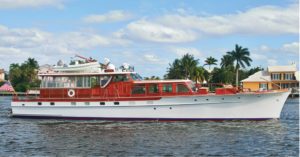 Rumak III had at least five owners after William "Mac" McKelvy. At one point this fine yacht was abandoned in a Florida river, and actually had a tree growing through the topsides. A former owner saved her, and subsequent buyers continued the healing. More restoration down south brought the boat, under the names Wind Song II and Osceola, to seaworthy shape. Finally the boat came to Maine, for the ultimate refit at the Hinckley yard in Southwest Harbor, where she was renamed Annabelle.
Her top speed is 12.0kn and her power comes from two 350.0hp General Motors 8V71N diesel engines.